Focussing on the Dodge and Burn Technique
There are many techniques in editing beauty but for this tutorial we'll be explaining how to it is done on high end beauty retouching using the dodge and burn technique.  
There are many ways to dodge and burn skin but all of it has the same process of doing it down to the very detail of the skin.
Let's start with the base photo. We've got to give a big thanks to Hugh O'Malley for letting us work on one of his fantastic photos.  He is no stranger to top end beauty commercial work, and we're glad he trusted us to work on finishing this image.
Here's the photo, fresh on photoshop. As you can see we have quite a bit of work to do. The fine detail on the skin needs to be smoothed out even more. There are lots of paint particles, as well as brush strokes that need a little bit more blending in.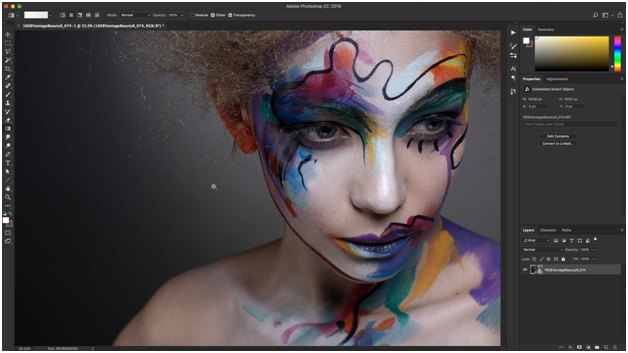 The first step in editing is always cleaning the skin of obvious skin imperfections/blemishes using the healing brush on a different layer so it's non destructive and we can easily go back to the original.
Remove the dirt or whites on the skin that is quite hard to dodge and burn.
Also some pigmentations or lines that could be very distracting.
After cleaning the skin we make a layer of 50% grey set on soft light for the dodge and burn.
And a another color fill of 50% set on color so when we are dodging and burning the skin we don't base it on color but more on the level of brightness of the skin.
We then make another layer of curves on top for checking. You can adjust the curves brighter or darker to find out if the skin is even on all levels of brightness.
On the dodge and burn layer we use a small brush tool to paint black or white on the layer to dodge and burn the skin.
When doing this you would want to be 200% or 300% zoomed in to see the skin detail.
This process usually takes hours for a photo depending on your speed, but in the end it is worth the effort because you would be retaining the detail on the skin and it wouldn't look like it's airbrushed.
The next step for this photo is adding the general dodge and burning for the entire image. Then Crop to portrait to lessen negative space.
I used simple curves to adjust the brightness on some areas of the face to bring out the detail on the make up and also to put the focus of the image on the most interesting parts of the photo.
I also added some toning by fading the blacks to darker grey and add a bit of color there.
You can watch the Time Lapse video of the entire edit here: