Real Estate Photo Retouching
Services
Real Estate Photo Editing and Retouching Services that
Preserve the Truth About Your Property
Real estate photos require a different kind of treatment from other types of commercial photo editing. While the goal of high-end real estate photo retouching service is to enhance an image by brightening dark areas and correcting color saturation, there's a responsibility to preserve the true nature of the room, as well. Heavy editing can make real estate photos look different from the actual property, which can put you in hot water with clients.
What you need is a post-production team that will show your property in the best — and an honest — light. Our team of graphic artists and digital photo retouchers and editors are just as proficient at enhancing property photos as they are with still-life and live portraits. Get in touch with the Paper Boat Creative team. Our real estate photo editing services are available to you anytime.
Drag the Slider to View the Before and After Photo
Real Estate Photography Editing Services for Agents and Sellers
Real Estate Photography Retouching Services for Agents and Sellers
A property's curb appeal matters to real estate buyers, but they don't have to visit every property they're considering. Most of them will simply ask for photographs and whittle their list down based on what they see. We can help you draw your clients' attention to your property's best outdoor features through our real estate photo editing service. Here're some ways we've done our magic:
An empty room doesn't inspire buyers to visualize the space as their own. Show its potential through virtual staging and renovation. We can populate any interior room with furniture and home accessories. We maintain accurate proportions, too.
Artificial lighting and bright sunlight can flush out the colors of the furniture, carpets, and other objects in a room. Through white balance adjustments, we can keep your interior photos as accurate as possible and achieve the correct the color temperature.
Precise Clipping Path for Interior Photos
Minimalist designs are trendy, but that doesn't mean all walls have to be bare. Through expert use of the clipping path tool, we can change the color or wallpaper of an entire room with just the click of a couple of buttons. It won't matter if furniture or people are standing in the way; our work is flawless.
Badly-timed photos might show objects, stains, and other distractions that mar an otherwise marketing-worthy image. You won't have to do a reshoot; you only have to call Paper Boat Creative. We'll remove inconveniently-placed objects from the frame and clean it up to keep the focus on the room's central features.
Panoramic Photo Stitching
Architectural retouched images may require multiple photos to capture the complete look and feel of the real estate. Paper Boat Creative seamlessly combines multiple photos feature to showcase the full extent of a piece of real estate. Our team expertly stitches multiple photos, adjusts the color, lighting, and additional detail to showcase one gorgeous panoramic image.
A detailed photo retouched interior requires a detailed exterior as well. Paper Boat Creative will go the extra mile to replace a dull exterior into a vibrant exterior complete with nature, cityscapes, and a clear sky with proper reflections that match the lighting as well.
Interior Photo Editing: Encourage Buyers to Visualize
Interior photography retouching can make the best indoor features of your property stand out. The trick is to combine retouching and editing techniques like exposure adjustment and perspective distortion correction. This type of editing requires a keen eye and an expert artist's hand to accomplish — advantages we apply to our real estate photo editing services.
Enhancing Real Estate Photos through High Dynamic Range Imaging
Paper Boat Creative offers a special service for an industry whose need for high-end photo editing is often overlooked: real estate. Our photo editing for architectural images reveals the practical and aesthetic details of a structure while maintaining a perfect balance of illumination and shadow throughout the frame. We piece together several versions of a photo, each with a different exposure, to create one high-definition image that's undoubtedly captured and edited by professionals.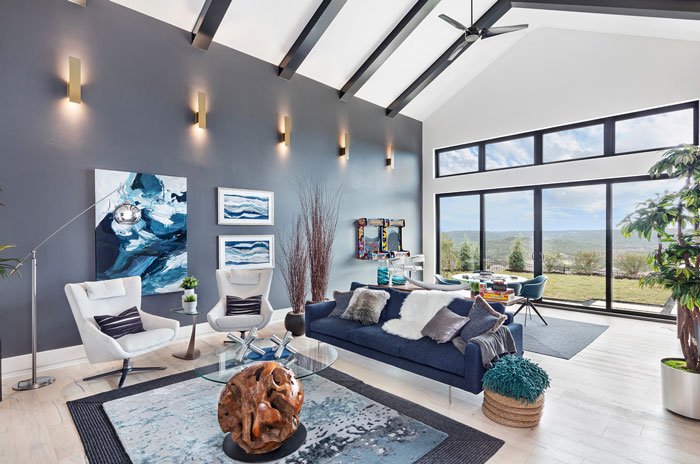 Sharp lines that show definition
Smart use of shadows to create depth and realism
Adjusted color contrast and white balance until the whites and blacks are defined
Allow us to breathe life into your real estate photos so your prospective buyers and tenants can see their full potential.
Work with a Premium Editing and Post Production house with a global clientele and discover why some of the world's best brands choose to work with the Paper Boat.
Photo Editing Benefits Architects and Developers
We strive to make real estate images look realistic, even as we add dramatic touches like light flares and filler images. Buyers and renters who browse the Internet or print magazines look for properties they can picture themselves in. They're not satisfied with one image taken from the curb; they'll want to see the house or condo from every angle, both inside and outside.
Real estate customers find honesty in the finer details. Your photos, therefore, must show what your property looks like when viewed in person; and since many details can get lost on camera, our real estate photography retouching services will bring them back through a variety of post-production editing and retouching techniques.
Choose Paper Boat Creative for Real Estate Retouching Services
Fashion photography promotes a creative lifestyle, it brings us into the real m of imagination, worn through clothing. Fashion photos inspire people, they allow you to be taken, even just for a while, into another reality.
High-fashion editorial images always tell a story, and it's up to the photographers and post-production companies to make sure the photos serve their purpose. These are some ways we do our photo retouching services for fashion.
Quick Turnaround
Get your photos right on time. We have worked for clients in fashion, retail, and advertising — demanding, fast-paced industries that consider timely turnovers to be of utmost importance. Our experience and work ethic guarantee that we will finish editing and retouching images on time — if not earlier.
Expert Photo Retouchers
Hand the difficult task of showing off your properties in the best light on photos over to us; our exceptional retouchers will take care of your real estate photos. The past years have proven the high caliber of photo retouching Paper Boat Creative is capable of. We are precise, creative, and will adhere to your vision.
Advanced Photo Retouching Tools
Take advantage of the latest photo editing software. In this industry, tools matter almost as much as skills. As we already have more than enough skill to spare, we made sure we acquire the technology to match. We use Adobe Photoshop and Lightroom, and high-power computers to accommodate large images and high-resolution photo editing.
High Quality & Consistency
Paper Boat Creative has been in business for over seven years, having earned the trust of advertising professionals in Europe and Asia. We worked hard to maintain high standards not only in photo editing but also in our customer service. Consistent excellence — that's what you can expect from Paper Boat Creative.
Choose Paper Boat Creative for Real Estate Retouching Services
Fulfill your calling as a real estate agent who helps people find homes and establish roots where they can feel safe and be part of the local community.
After all, buying a house is a long-term commitment and might even be a lifelong investment for your clients. Help them find the right home, one where they can raise families, live their best years, and retire in comfort. They'll remember you not as the person who sold them a house but as the one who helped them achieve a major life milestone.
Paper Boat Creative can be your partner in your real estate career. Our real estate photo editing and retouching services can make your job easier. By using high-quality photos that show the best views of a property, you'll have a better chance at attracting buyers and closing sales.
Talk to us about your real estate photo editing needs. Get in touch with Paper Boat Creative today
The greenery and foliage around the image could look dull or have patches, which is normal as plants have cycles of growth. We replace and enhance things like the lawn and garden trimmings to make everything look vibrant and lush. The grass is greener on our side of the fence!
Sky Attachment and Enhancement
Whether you have a photo of a house or the concept design for a new project, we can enhance it further. We can also retouch the natural backdrop or add a clear sky, nature elements, and other objects that make your property look ready for occupancy.
Conceptualizing a house for a builder or client? Help them visualize the project better by adding live elements to the image. Paper Boat Creative can add pictures of people walking, sitting, or interacting with one another. We apply proper composition rules so that the finished images look balanced and realistic.
If you're a contractor or architect working on a concept design for a house or building, turn to us for 2D and 3D plan redraws. Let our artists convert your blueprints into 2D and 3D renderings of the finished room. It will be easier to show your vision to your clients.